You guessed it: I start with some notes about them and their site, then follow with reviews of purchases.
Quick Notes:
Low-mid price point in discount range with a healthy number of glasses under $20 (plus shipping).
Also carry a number of higher-priced name brand frames.
Very International-Friendly – They use Geolocation to guess your country and let you confirm/change to see pricing in your local currency.
Offer a "reglaze" service – Effectively a service for those who wish to keep their existing frames and just have new lenses put in.
If unsure about your PD, they allow you to send your old glasses in and they'll take the measurement from those (free if you don't want the old glasses back, otherwise 5 pounds).
Can not check out as guest.
Impressions, website, ordering:
SelectSpecs is a UK company and they've always had some form of support for displaying the price in other currencies for other countries. They've been around for many years, and the complaint rate that I've received about them has been pretty low, though the complaints did point towards customer service not being willing to resolve the issues.
The site itself is pretty unique to them. Rather than looking at what everyone else does and copying main aspects and layouts, it really looks like they've thought about how they'd want to approach the site and options if they were a visitor, and implemented that. The site doesn't have the 2018/2019 modern feel that some others have, but it's functional, helpful, and intuitive.
Visitors new to buying glasses will probably fare well on the SelectSpecs site. For something like taking a PD they have guidance, an app, a video, and the ability to even send your old glasses in.
Ordering is a little bit of a process due to the way things are split up across pages, though it's a perfectly reasonable approach in their case to keep from flooding visitors with too many options at once. If you're trying to compare the price of every lens combination, you'll probably want to use the price chart available in the main menu. Same goes for getting the current price for shipping if you'd like to do that before you enter your information.
Pricing and Value:
As much as they do offer a lot of higher-priced frames, they have a healthy selection of lower-priced frames too. They're one of very few retailers who carries a large selection of both cheap stuff and expensive branded stuff to serve all areas of the market. Normally this doesn't end well for retailers, but SelectSpecs has been doing it for a long time and they're still here.
Under $20 can be found (without UV), with the upgrade that contains UV only being about $6 more currently. I won't rag on them too hard for it since the price tag for the UV isn't major… but still…. the number of retailers that have started to omit UV on their basic lenses is… astounding. Aren't some of you retailers optometrists!?
Overall the value is really quite good, though those in the US should note that they pay the same shipping rates as everyone else (with most retailers being based in the US, US customers often get a deal on shipping).
Some SelectSpecs reviews…!
This review (my review) was from back in 2006.
Feb 16 – I placed an order for glasses from SelectSpecs. I ordered the Gladiator 104 frames (unisex, flex arms, all metal) which were $32.90 CDN (~$29.56 USD), with the "Thin & Light" lens option which was available at no extra charge. Lenses include a free AR/UV/scratch coating. After shipping, the total came to $38.06 CDN (~$33.18 USD). Note that they do also carry lower priced glasses which start at around $23.33 USD (plus shipping of course). The only things I noticed about the ordering process that differ from other places are 1) you can choose your own currency, and 2) The page where you input your address has a Full Address, State/County, Zip/Post Code, and Country section, but no City/Town section, so you have to be sure to include your city in the first part of the address section. Not a huge deal, and the post office will undoubtedly determine your city from your zip/postal code if you forget, but still something to be aware of. Just to be safe, I put my entire address including the city, province, and postal code in the address box, in addition to filling out the other boxes.
Feb 24 – I received an email with an invoice that at the bottom said "Due for arrival within the next 1-2 days". I took this to mean that my glasses had shipped, although I'm sure the 1-2 days part is meant for those who live in the UK.
Mar 7 – I received an insert with my mail that said I had a parcel waiting at the post office. Sure enough, it was the glasses.
Pictures
(click on any of the thumbnails to open a full size picture in a new window)
#1 and #2 are the packaging, pretty standard size. The packaging has a bubblewrap interior which is always nice to see. #3 is everything inside the package. Two copies of their pamplet, the actual glasses case and a cardboard cover. #4 is simply the case opened. The glasses were wrapped in bubblewrap, and there was a small micro-fiber cloth included. Finally #5 and #6 are simply a couple pictures of the glasses themselves.
Mar 7 (continued)
I was pretty impressed with the packaging. First of all, the glasses case seems pretty sturdy and solid. The addition of bubblewrap both as part of the envelope, and wrapped around the glasses adds even more peace of mind.
The glasses themselves seemed pretty good too. Glasses were clean with only a small smudge noticeable towards the side of a lens. The frames needed adjustment, as they looked lop-sided when first put on. The frames seemed a little on the cheaper end, and I was worried they might break when adjusting, but the metal seemed to bend relatively easily, and the adjusting went well. That being said, for anyone not comfortable making the adjustments themselves, I'd suggest going somewhere to get it professionally done. The lenses were very good, and free of defects. The coatings are water-repellant, and the AR coating has a slight green tinge to it. All in all, I'd say the glasses were very good, and aside from the required adjustments to the frame to get it straight, I think just about anyone having received this pair would have been completely satisfied.
Days
Total time between ordering and delivery: 19
Time to ship: 8
Time in transit (those in the UK will undoubtedly have a shorter ship time): 11
Would I buy from SelectSpecs again?
Yes. Pricing is good, packaging was great. Aside from the frames being a little "out of shape", the rest of the experience was just about perfect.
Would I recommend SelectSpecs to others?
Yes. My only concern would be someone having to adjust the frame and accidently breaking it. Aside from that, the lenses were great, and I don't forsee anyone receiving a package that was damaged during shipping. As long as no errors are made on the prescription, and the frames survive adjustment, I think just about anyone would be happy with a pair from SelectSpecs.
4eyes finds SelectSpecs glasses shipping time "acceptable" and would recommend purely for the savings
This review took place in 2006 and was sent in by "4eyes".
Frame: Red Fox 801
Lenses: 1.61 index single vision – comes with anti reflective, anti scratch.
Delivery time: acceptable – took about two weeks from order placement. The item was shipped from Hong Kong.
What was included: Glasses in a case, no wipe cloth.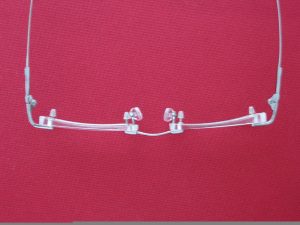 Lens quality: The lens is OK with no scratches and the prescription seems to be correct. The Anti-reflective coating seems to work but not as good as my previous Costco glasses. My son has not tested the anti scratch coating yet. One thing I wish the websites provided is an estimate of the lens thickness based on your prescription and lens selection. The lenses I got are thicker that I thought they would be and this sort of tool would have been good to help me pick the lens.
Frame quality: I do not like the frame construction now that I have the glasses. I like the shape but what I could not tell from the online image is that the lenses are attached to the frame with two screws on each lens. Each lens has a slot cut next to the screw hole. Each slot holds a pin that keeps the lenses from twisting on the frame (see pic). The problem is that the slots in the lenses are a bit bigger than the pin so the lenses do move a bit and I find my self adjusting the lenses every few days. Another thing I don't like about the frame is that the screws that hold the lenses are rather long – these should be cut in my opinion. The screws do have caps so that you don't scratch yourself – these caps can fall off and can be very hard to find since they are clear. Basically, I got what I asked for but could not clearly see what I was getting.
Would I recommend this to a friend: – Yes, purely for the savings.
Greg is pleased with SelectSpecs, though mentions a few downsides
Note: I do not have the exact date listed for the review Greg sent in, but it was a number of years ago.
I'm not qualified to write a comparative review as this is the only online eyeglasses retailer that I have actually done business with. However I have just completed my third purchase with them over the course of four years, and I continue to be quite pleased with both the product and the process.
In the past I have purchased eyeglasses from Sears, Lenscrafters, Walmart and Costco and have had only lukewarm satisfaction with any of them, Costco being the best. But my glasses from SelectSpecs have been great and have surprised me in a couple of areas.
First the frames: When I unwrapped the first pair of glasses from SelectSpecs, I was a tiny bit disappointed. They didn't look cheap, but they didn't look quite as expensive as I had hoped for. In retrospect, what I was hoping for was probably unreasonable. What I was hoping for were glasses that made me look young, wealthy and hip, and I am none of those things. What I received were some very good looking and serviceable glasses. VERY serviceable. I am really hard on glasses and the frames have held up as well as any I have ever owned. Not even any loose screws. I only wish that I could buy frames with the spring type hinges.
The lenses have also been remarkably durable. Not only have they been fairly resistant to scratches, the optical coatings have been nothing short of amazing. I have just examined the old glasses that I bought from SelectSpecs more than four years ago, and the coatings still appear to be virtually perfect.
Minor downsides: In the past, my SelectSpec glasses have cost me around $55. This year my newest pair cost me a little over $140 in exactly the same frames. The difference is that, for the first time, I opted for the "recommended" ultra thin highest quality lens material. I probably will never buy this upgrade again. When I examine both pairs of glasses closely, side by side, I still cant see any significant difference. The other minor downside is that for US customers, service is a little slow. SelectSpecs operates out of the UK and although my glasses were finished within the stated "7 to 10 BUSINESS days" it was 29 days from the time I placed the order until they showed up in my mailbox. This was acceptable to me, but definitely not good for the person who has just lost their only pair of glasses.
The bottom line for me is that I have been pleased enough with my purchases from SelectSpecs that I don't have a great interest in trying other sellers. I initially chose them because I knew exactly what frames I wanted and they were the only ones that had them at a reasonable price. And although they may not be the very cheapest, the combination of selection and quality makes them a very good value. And for someone with no experience at buying glasses online, the selection, and purchase process was so easy and straightforward that I decided not to bother looking anywhere else. I definitely recommend them.
Recommendation for 2019
With the variety of frames (from cheap to brand name), and solid pricing all around, SelectSpecs really has a lot of areas covered and there aren't a lot of reasons to avoid them based on offerings alone. Value is good, the site caters well to new users, and overall I'd be surprised if someone didn't find what they're looking for at a reasonable price.
That said, if looking for the absolute in bottom-dollar pricing for US visitors, the flat rate worldwide shipping might not be as appealing as the discounted or low-cost shipping that some US-based retailers offer to US residents.
If you're interested, the SelectSpecs website can be found at: https://www.selectspecs.com/ .