Not long ago I picked up and wrote about the Brother MFC-J995DW and why not Canon or Epson. Less than a year later, the cost of ink had me looking again at Canon or Epson.
The Canon G6020 happened to hit a pretty decent sale at the time the Brother "INKvestment" cartridges started running out. Consider this:
The Canon G6020 comes with enough color that you'd have to buy approx 1.35 of the high volume Brother LC3035 cartridges to match it (currently 1.35 x 3 carts * $60 = $243 USD worth).
The Canon G6020 comes with enough black that you'd have to buy approx 4 of the high volume Brother L3035 cartridges to match it (currently 4 x $55 = $220 USD worth).
Add that up, and you get $463… list price of the Canon G6020 with the same amount of ink included is $270. Another benefit to the Canon: to re-buy just the Canon ink that comes in the box, ($12 x 3 colors) + ($18 x 3 black) = $90. Yes, the ink is officially less than the cost of the printer.
Gone are the days of buying 10 printers on Black Friday, pulling the ink out, and leaving the printers themselves by the dumpster!
–
The Elephant in the Room: Canon's 5b00 Error aka "planned obsolescence time bomb"
Before getting started, it's worth mentioning the thing that might randomly kill your printer inside the first couple years that you may not have a lot of control over. No, not plugged jets (you do at least have some control over that, and can remove and try cleaning them manually if so inclined). Something much more insidious…
As much as looking at the cost of ink makes Canon appear to be a no-brainer, the sad reality is that if you look for reviews of Canon's Ecotank models you'll find a pattern:
New Ecotank printer starts with a lot of 4-5 star ratings.
Approximately 6-18 months later, reviews are updated with low ratings due to a 5b00 error, often when people are still on the original ink. Printers are dead.
Canon releases a fresh model.
Cycle repeats.
The 5b00 error is a "waste ink" or "purge" full counter though the manual describes the cause as "Printer error has occurred.". Basically the printer has dumped enough ink into the pads that it believes they're full of ink. Canon does not provide a method to reset this counter even if you manually open things up, empty the compartment, and clean the pads.
To be fair, with the G6020 being relatively new, I haven't come across any reviews yet where someone has hit the 5b00 error.  With Canon's track record being what it is though, I wouldn't get my hopes up just yet. I'd happily update this if a year or two went by without anyone hitting this issue, or if Canon started solving this in a satisfactory consumer-friendly way.
Moving on… Initial setup
This probably isn't the printer for someone who isn't either tech-savvy or fairly familiar with printers.
Unboxing and assembly are fairly reasonable and I don't foresee too many people running into issues while following the guide, assuming they're remotely handy. Remove orange tape, pop in the printer heads, fill with ink. Some ink splatter is very possible: after dumping a bottle I ended up with a little "soap bubble" at the spout which popped in a messy way.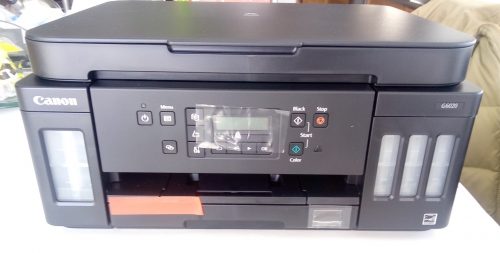 Where things start to require a little expertise is when actually interacting with the printer. On initial start, the printer failed to actually do an alignment as the manual suggests, presumably because it was still in the process of initialization (priming etc) and wasn't able to queue up another operation. To be clear, it did ask and I did choose OK: it just didn't do anything. I double checked the manual to ensure it didn't say "wait for the racket to finish before doing this step". I ended up going through the menu and running the alignment manually afterwards.
Connecting wirelessly via SSID/password was done via a little text based LCD. Again, an area that someone tech-savvy will breeze through (relatively speaking) but it's certainly not as straightforward or quick as with touchscreen-based printers. Unsurprisingly this has been mentioned as a pain point in a number of reviews.
Mac OS: Unlike the Brother machine, an older version of Mac OS X required the driver package to be installed before the printer could be added via Airprint. Newer versions of macOS picked it up without a problem.
Ubuntu (CLI): The install.sh program initially failed due to missing dependancies on a fresh system (I'd incorrectly assumed it would pull any dependancies on its own). It took a little coaxing to get everything up and running. In the end I ended up adding the printer via the CUPS web interface. Note that the Brother software didn't fare any better here mind you and still required some manual work before I could access and print items from the CLI.
—
On the auto-shutoff issues that have shown up in numerous reviews: it can be disabled in the "ECO Settings" if you're willing to eat the 1.7W standby power usage (about $1.50/year in electricity at $0.10/kWh vs the $0.26/year if it's allowed to shut off and stays off).
Incidentally, the fact that "auto power off" has been an issue for many does not come as a surprise. Powering on a device over a network can be a trick in itself and tends not to be highly reliable in many cases. When that doesn't work and someone wants to disable the functionality, the LCD and navigation are not intuitive enough for the average person to browse through.
Print quality: Initial observations
Comparing the output of the Canon G6020 to the Brother J995DW as I did a few side-by-side comparisons on my end:
Black Text: Canon wins hands-down. Text is darker and much sharper.
Color and Images (default settings): Canon is more vibrant, Brother suffered fewer defects in solid colors.
Copying: Canon had more accurate text, but less accurate color (red from test page became pinkish). The Canon copy cut off the left and bottom page margins of the Ubuntu CUPS test page.
Photos (both on HP photo paper): Detail for both was really good. Images of people, default color profiles, I preferred the output of the Brother (particularly for the color in faces), though the Canon brought out darker clothes quite a bit better. I wouldn't be surprised if depending on the picture, personal preference would shift between these 2 printers.
Overall, it's a toss-up. I'd say the Brother is more consistent (color) and reliable (edges of scanned page). The Canon does black text much better. If ink cost were not an issue, I'd probably go with the Brother as a day-to-day machine as the mediocre text quality is offset by the consistency elsewhere.
—
Typical Usage
One aspect many reviewers complained about with the Canon was the LCD. They're not wrong:
It's not backlit.
It's slightly buggy (sometimes the 2nd line won't highlight with asterisks when it should).
It's not overly intuitive and pales to what's available on touchscreens.
It's also not something you can "set up for the grandparents" and walk away from. Any time you drop paper in the rear tray, any time you pull the front tray, any time there's a detected paper mismatch, any time it thinks the rear tray compartment is open when it actually isn't (I had this happen), any time there's a hiccup or error… you have to interact with that little display.
In short, a tech-savvy person could walk up to it and muddle through things to get it to do what they want it to do. A novice… not likely. In an office, this would be the type of printer where the 1 person who knows how to work it is always on call, is the one to replace the paper, etc. When that person returns from vacation they find out the office bought a new printer because this one had a flashing light and nobody was quite sure what they were supposed to do.
—
Moving on, there probably isn't a whole lot to mention that isn't marketing-related (2-sided printing, etc). It is worth mentioning that it hasn't struggled to feed in photo paper from the rear slot for me yet (the Brother frequently does).
One potentially negative aspect of the Canon is the insane amount of "background" stuff it does after printing. Nearly every noise the printer can make, it does. Print a photo, and after completion a big background task takes place. While I can't be sure, I suspect some of the noises are head cleaning/purging which might mean a 5b00 error sooner rather than later. Contrast this to the Brother which is quiet and much more well-behaved.
Overall Recommendation
My recommendation here will be largely influenced on Canon's track record with the 5B00 issue, which means in all likeliness it'll rear its ugly head at some point. If Canon has actually addressed it in this model, or chooses to address it with an addendum in their documentation laying out reset instructions (providing their service manual would be perfectly acceptable) I'll be more than happy to update this.
With that in mind…
My feeling is that if you print large multi-page batches at a time (rather than sporadic pages where the printer may or may not dump ink after), the printer will likely pay for itself in ink savings. The Canon-branded GI-20 inks are comparatively cheap and aftermarket stuff can be found for even less. Black text documents look good, and color prints are definitely reasonable – if this is your workload, this printer may very well be a sound investment.
On the other hand, if you print sporadically, history has shown that Canon Megatanks (and Epson Ecotanks, incidentally) seem to have a propensity for early deaths due to the ink absorber pad / waste ink counter. This goes extra if you find yourself needing to run cleaning cycles to clear out the heads (though Canon has the advantage that you can easily get at their heads and attempt a careful manual cleaning instead of relying on cleaning cycles). The risk of early death does make the Megatank a higher-risk investment, as you'd generally expect a few years out of $200+ electronics that only receive mild use.
Finally, if looking for something either intuitive or extremely high-end, you'll probably have to look elsewhere. The Canon Pixma G6020 is neither. If it lasts long enough to go through boxes of reams, it'll probably be remembered as the most cost-effective printer you've ever owned. If it doesn't last, it'll probably be your last Canon.